Vertical:
Financial Institutions
The Challenge:
First Financial Credit Union in Chicago wanted to create the "Credit Union of the Future" by leveraging innovative technology that would dramatically improve the member experience and deliver the convenience their members expect in the digital age.
The Solution:
Cisco Spark™ and Cisco Remote Expert
Video Conferencing
Screen Sharing
Messaging
File Sharing
Integrated Real-Time Communications and Collaboration

The Results:
Improved and more convenient member experience, satisfaction, and loyalty
Avoiding long wait times for members
Growth in membership of younger market, improved operational efficiencies, and shortened time to resolution
Centralized pools of experts allowing inbound calls from video-enabled channels to make better use of credit union knowledge
Revenue boost
Reduced full-time-equivalent (FTE) requirements
Who Is First Financial Credit Union of Chicago?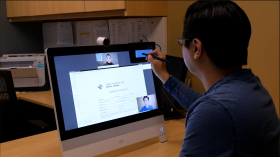 FFCU (First Financial Credit Union) was formed in 1936 to provide a safe place for employees of the AT&T Corporation to save and borrow money. Over the years, FFCU has steadily expanded and grown to become a strong institution serving over 8,000 members in the northern Chicagoland area.
The Challenge:
The challenge for First Financial Credit Union, and all credit unions trying to stay relevant today, is to provide state-of-the-art and convenient services to its members. It really is that simple. With that in mind, the FFCU Board of Directors decided it was time to invest in the future and hire leadership that was familiar with, and could embrace the many benefits of, modern technology. Their goal was to create a state-of-the-art, full-service credit union, that was more efficient and convenient for its members.
"One of the goals of this project was to improve the member experience and service level we provide at life milestones for our members," says Michael Abraham, the President and CEO at FFCU. Abraham says, "Things such as college graduation, buying your first home, getting your first car, getting married and retirement, are all really important life milestones that we want to be involved in as a credit union."
Providing a higher level of service requires being able to quickly handle "busy periods" at every FFCU location.
"We have four branches, so it's always been a struggle for us to make sure we have proper staffing," says Abraham. He adds, "There are times when some locations are super busy, and others that aren't. We needed to figure out how we could utilize our staff across the locations to better serve our members."
So, First Financial turned to IVCi, a Cisco Premier Partner, who has vast experience in providing leading-edge solutions to financial institutions of all sizes.
"We turned to IVCi to address our challenges based on their reputation and their experience with some of the providers we had already looked at," says Abraham. He adds, "IVCi focused more on the business outcomes of what we wanted to accomplish instead of just selling us product. They were more of a partner that identified solutions for our business case, so they didn't just put technology in our locations."
Abraham says, "IVCi was really helpful not only from the implementation side but also from a procurement side, as far as finding solutions for the business case that we wanted to solve. They worked hand-in-hand with us. We had several calls and iterations of the project, and really created something that was going to be not only budget-friendly for us, but also solve the issues that we were looking to take care of."
The Solution:
The solution IVCi recommended and implemented was Cisco Spark and Cisco Remote Expert. The Cisco DX80, DX70 and Business Edition 6000 Unified Communications systems that IVCi implemented delivered a real-life, instant, and seamless experience for FFCU members, no matter which branch they were physically at.
"Using Cisco Spark, which allows us to host video calls, meetings, and more, plus Remote Expert, we were able to connect our members with who they needed to get to and get their transactions done on time with less waiting," says Mike Fitton, the e-Services Supervisor at First Financial.
Fitton says, "The member experience has improved greatly. We've been doing transactions like opening memberships, doing loans, and more, and they can get connected to the person that they need to get to without waiting, and our members love it."
"Members no longer have to wait," says Abraham. He says, "If there's no one available at the location a member is at, we can sit them in front of the screen and talk to someone at a different location. In addition, we can get people to experts that aren't available at the location they are at currently, quicker, more efficiently, to solve a high-level problem faster for a member."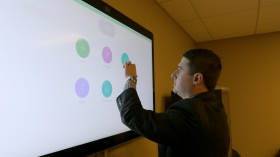 The Results: A Credit Union of the Future
The results of the FFCU and IVCi partnership have been game-changing for the credit union and its current and future members. Using Cisco Spark and Cisco Remote Expert so a centralized pool of experts are available to members anywhere, anytime, via video-enabled channels, means reduced FTE requirements, improved operational efficiencies, shortened times to resolution, and an obvious potential for serious growth in membership of the younger generation. That can only help the financial institution's bottom line.
Not only is there an improved and more convenient experience for FFCU members, there's renewed customer loyalty. The current, and next generation of credit union members, expect a more modern approach to how they do business. At First Financial, they are getting all of that and more, and its members are starting to notice.
"I feel like First Financial Credit Union is the credit union of the future," says Kevieth Carrillo, an FFCU member.
Edward Sabian, an FFCU member for the past year, agrees, saying, "I've noticed an improved member experience at First Financial Credit Union, whether it's just talking on the phones or using the video conferencing. As with anything nowadays, convenience is such a big part of our lives." He adds, "I can't imagine joining a credit union that's not technologically focused towards the future. For First Financial to embrace that wave of the future has been something that's really made my experience as a member even greater than what I expected."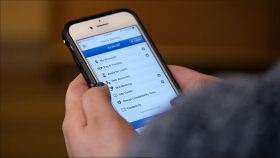 As for First Financial, the project, from start to finish, has been a huge success, thanks to the collaboration between FFCU, Cisco and IVCi.
"We've been extremely happy at FFCU with the solution that Cisco and IVCi have come together and partnered for," says Abraham. "They've not only taken what the needs of our business are currently, but also have taken a step towards what we can do in the future, and they are now part of our strategic plan as far as implementation for years to come."